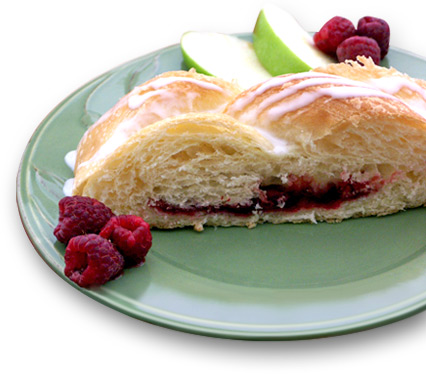 Products
Program 1:
Butter Braid® pastries are light and
flaky, containing mouthwatering
fillings like cinnamon, cream
cheese and various fruit flavors.
Unlike a dense bread, Butter Braid pastries are hand-braided with a sweet dough base containing over 25 layers of light, airy dough and 100% real butter. This gives the one-and-only Butter Braid pastry its unique and incredible flavor! Thaw, Rise & Bake. Icing packet included. Great for breakfast, dessert or any special occasion. Very profitable AND exclusive to fundraising! You'll love it when you try it!
Available Flavors

Cinnamon
The smooth cinnamon flavor will melt in your mouth as you experience America's most popular flavor choice.

Cream Cheese
This flavor is definitely a favorite of many, offering a rich, creamy taste you won't find anywhere else.

Raspberry
This one is a proven winner with the right amount of sweetness and tart you'd expect from a raspberry.
Caramel Rolls
Rich, gooey caramel glaze drenches every delicious bite. You'll find it really hard to eat just one!

Strawberry & Cream Cheese
Strawberry and cream cheese meet in the middle to make this a mouthwatering treat that you will not forget.
Product Information
Ingredients/Nutritional Information
Please click on the flavors above for more information.
Baking Instructions
For baking instructions please click here.
Safe Quality Food (SQF) Level 2 certification
We maintain a high standard in food safety and quality. Read more.